The Territory Suites (2014)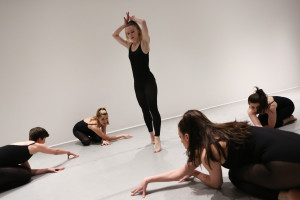 The Territory Suites marks RDT's first collaborative evening-length work. The piece explores "territory" from the perspectives of three unique choreographic voices and lenses: Human Relationships, where we explore territory as it relates to the human body and psyche—What happens when our intellectual and psychological space is infiltrated by an intruder? How does our sense of self change and how can the control of "territory" be regained; Gender Identity, where gender performance and sexual politics are questioned—How do we navigate the world around us through politicizing our bodies? How do we negotiate the people around us both physically and sexually; and Animal Interactions, where we study animal movement and its translation onto the human body—Animals identify their territory through means of intimidation, body language, and physical confrontation.
Though the tone of the piece is at times heavy, there are moments of humor integrated throughout such as an absurd physicalization of a sloth or the spoken word/text representing the stream of consciousness during a duet. The juxtaposition of emotional intensity and comedic lightness reflect the complexity of the human experience.
Technical Specifics
The piece consists of 9 dancers and can be presented in many formats. It has been performed as a site-adaptive work, as an evening-length work in 5 sections, and as three separate pieces representing the three individual choreographers. There are no props or sets required.
Length: Approx 50 minutes
Music: Recorded
Past Performances
DANCE COMPLEX
Cambridge, MA
2015
FRAMINGHAM STATE UNIVERSITY
Framingham, MA
2015
RIVERDALE COUNTRY SCHOOL
Bronx, NY
2015
TAKING ROOT|GREEN SPACE
Queens, NY
2015
MASSACHUSETTS DANCE FESTIVAL
Holyoke, MA
2015
DANCING IN THE STREETS|SOMERVILLE ARTS COUNCIL
Somerville, MA
2015
TRISKELION ARTS
Brooklyn, NY
2015