The Tale (2012)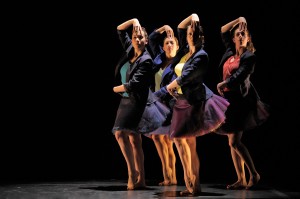 The movement vocabulary utilized in The Tale is largely based upon the movements of animals.  The instinctual behavioral patterns of certain invertebrates were studied and the findings were then applied and translated onto the human body.  Animal movement research, along with an interest in multi-disciplinary, accessible works of dance theatre and the utilization of a narrator on stage, are equally explored in The Tale.
Technical Specifics
The Tale uses 4-5 dancers and includes an optional video projection and optional turf prop.
Choreographed by Rebecca Hite
Running Time: 20 minutes
The Tale was created with the generous support of the Gretchen Moran Fellowship at Smith College.
Past Performances
RIVERDALE COUNTRY SCHOOL
Bronx, NY
2013
COLLABORATIONS IN DANCE FESTIVAL|TRISKELION ARTS
Brooklyn, NY
2012
SMITH COLLEGE
Northampton, MA
2012